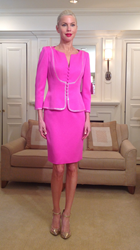 WASHINGTON, D.C. (PRWEB) February 05, 2015
WASHINGTON — Rizik's, for more than a century Washington D.C.s home for exquisite womens fashion and couture, will showcase the Spring 2015 collection of one of Americas leading fashion designers,Lourdes Chavez, during a special trunk show event at the store in downtown Washington, at Connecticut and L Streets, NW, on Thursday and Friday, February 12-13, 2015.
A representative direct from Lourdes Chavezs Los Angeles atelier will be at Riziks with samples of the complete Spring 2015 Lourdes Chavez collection, which will be available for special order and custom fitting by Riziks skilled seamstresses in the same manner of service that Riziks has provided to the leading women of Washington for more than 100 years. A model will show the collection both days from 12-3 p.m.
The Lourdes Chavez Spring 2015 collection is delightfully colorful and charming, offering a breath of fresh air for spring and summer days and evenings. She chooses fabrics from the finest European mills that are designed and sewn in her Los Angeles studio. The collections include Swiss cotton piquet, Italian polished cotton original prints, cloud-light Geneva silk faille dresses, jackets and separates, Matisse-inspired Swiss stretch cotton piquet day dresses with floral cut-outs and embroidery, Swiss cotton jacquard and elegant French silk jacquard and brocade cocktail dresses, sophisticated mother-of-the-bride dresses and glamorous evening gowns.
Fine touches of fringe, glitz, special fine leathers and extraordinary French laces adorn the collection. All designs are adaptable to meet the clients discerning taste and style wishes.
Riziks is her exclusive distributor in the Washington, D.C. area.
About Lourdes Chavez
Lourdes Chavez was born in Mexico. Her family recognized her artistic and design talents at an early age and emigrated to Los Angeles where Lourdes received a scholarship to attend the Fashion Institute of Design and Merchandising. She graduated with honors and was sought after by the top design houses in New York and Los Angeles.
She worked at two prestigious design houses in Los Angeles and opened her own house in December 1997, where she has been creating amazing designs ever since. Along with design, she is an equally talented pattern maker and sewer and has received awards from the State of California, City of Hope, the Fashion Institute of Design and Merchandising and the Fashion Group international, among others. This February she is the featured designer at the Barbara Sinatra Charity Benefit Fashion Show in Palm Desert, CA, part of the Frank Sinatra Celebrity Invitational golf tournament. The entire Spring 2015 collection can be seen at http://www.lourdeschavez.com.
About Riziks
Founded in 1908, for more than a century Riziks has remained Washington's leader in women's fashion and couture featuring international designers, unmatched personal service and an exquisite selection of bridal, eveningwear, outerwear, furs, sportswear, business attire and accessories. A local, family-owned business, Riziks has a history of serving the women of official Washington society and is building on that legacy today by serving fashion-conscious women of all ages in sizes 2-22. Visit Riziks at http://www.riziks.com.

###