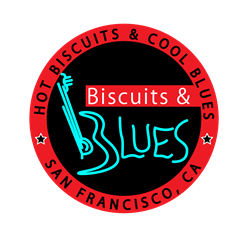 San Francisco, CA (PRWEB) June 02, 2014
Biscuits and Blues is excited to announce they will now be opening their doors for shows every Sunday starting June 1. With their first dinner show starting conveniently at 7 p.m. and the late cocktail show at 9 p.m., this allows guests to wind down their weekend with earlier shows, ending perfectly in time to start the new week fresh and relaxed.
The following list of headliners is only a small sampling of the acts to come, and all interested parties are encouraged to visit http://www.biscuitsandblues.com/lineup to view the June calendar of shows in its entirety.
Thursday, June 5, Nick Moss and his band will command the stage and celebrate their audacious new CD Release Time Aint Free. Transcending ordinary bounds of blues genre, Moss combines raw sounds of guitar, harmonica and vocals to create a sound that is exciting and full of pure talent.
Sugaray Rayford will grace the stage on the nights of June 6 and June 7. When Sugaray belts out a song, listeners not only hear it; they feel it. The excitement in the room is palpable when he takes the stage; he is a superb vocalist and entertainer.
Friday, June 13, Biscuits and Blues is proud to present their monthly installment of the fabulous Lavay Smith, The Queen of Classic Jazz and Blues and her Red Hot Skillet Lickers. The saucy vocalist and her eight-piece crew masterfully craft smooth R&B sounds to keep audiences tantalized and transfixed.
Saturday, June 14, the Greg Nagy Band will be performing their music, which is refreshingly authentic bathed with elements of soul, R&B, rock and gospel. His vocals and guitar chop mark him one of the foremost artists shaping contemporary blues.
On Fathers Day, Sunday, June 15, Biscuits and Blues is honored to feature Alvon, the classic, authentic blues artist and 2005 Blues Guitar Player of the Year. With vocal influences like Frank Sinatra and Nat King Cole, Alvons classic blues performance proves blues is as good as it has ever been.
Thursday, June 19, the powerhouse duo Chris James and Patrick Rynn take over the bandstand, performing deep, satisfying blues with a high-energy swagger. The duo is known to cut loose during their electric blues sets with powerful vocals and terrific guitar play.
Karen Lovely brings her rip roaring vocals back to Biscuits and Blues for two fantastic shows on Friday, June 20. Known for her passionate, driven performances and always backed by stellar musicians, this powerhouse vocalist delivers a blistering mix of contemporary and old school blues.
Saturday, June 21, Caf